niggas can you like decide between +1 or -1 because this way of neutrality is not getting anyone trialed soon
Pools closed!
Posts: 132
Joined: March 20th, 2019, 12:01 am
who are you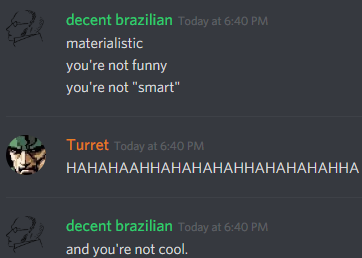 Posts: 474
Joined: August 2nd, 2018, 11:48 pm
Posts: 284
Joined: November 28th, 2018, 5:41 pm
Trialed him once already. Pretty cool dude, didn't get any tickets though.
Trialed him today, seems nervous, but his first ahelp turned out to be fairly complex for a first ahelp. Needs to work on questioning and speed with the tools, both will come in time. Think he can make a good admin, given time to learn.
I got babymin, someone put this into accepted or something
Pools closed!
Applications are only accepted when you get to GA.
I am thoroughly unconvinced on you as a person so far, I don't want just another admin to be added who is merely decent but cringy as a person honestly. That usually doesn't end well when the team starts getting annoyed with each other.
Was put on the text by lunaman 9 days ago, he for some reason chose not to post that information here.